Working Together To Build Our Future
A lot has changed since 1949, but Quaker has remained a company that is always looking towards the future to better the lives of our customers and employees. Take a look at a snapshot of our history throughout the years.
A Humble Beginning

Quaker Shade Co. was started by Harold & Marge Knoll in St. Louis. Later that year, it relocated to Marge's hometown of Freeburg, Missouri where our current headquarters remain.
1949
Shifting Production

The first aluminum storm windows and storm doors are produced, signaling a shift in company direction.
1954


1957
Aluminum Windows Introduced

A critical moment occurs when Quaker's first aluminum replacement windows enter the market.
1961
National Recognition

LIFE Magazine referred to Quaker as a nationally recognized brand for quality windows.
1962
Immense Growth

The peak of the storm window and storm door industry as Quaker regularly produced more than 2,000 units per day.
1979
Increasing Production

Expansion of Quakers prime window production area resulted in more than six acres of manufacturing space under roof being available.


1982
Vinyl Windows Introduced

Quaker began making vinyl windows as the market shifted.
1985
Wood Clad Windows Introduced

Wood clad windows were added to the product range. Quaker was now one of the first companies manufacturing aluminum, vinyl and wood windows in the same location.
1988
Unheralded Expansion

Ground was broken on the largest building to date on Quaker's main site, a 55,000 sq. ft. aluminum production building.
1996
New World-Class Campus

A 65,000 sq. ft. building was erected on a new campus, two miles south of the main plant in Freeburg. It was home to a new glass manufacturing and tempering facility and was the biggest ever built by Quaker.
2004
Innovative Paint Facilities

A 110,000 sq. ft state-of-the-art powder coat paint facility was opened to expand inhouse paint offering.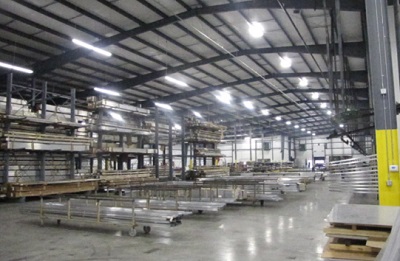 2012
Upgrading Amenities

An entire plant modernization project began that included a large addition to the existing aluminum production facilities that were originally built in 1997.
2013
A Commitment To The Future

Quaker's largest building to date - a 185,000 sq. ft. manufacturing facility, was completed.
2016
Continued Expansion

January: Quaker's south campus saw another 185,000 sq. ft. facility open to house all wood window and door manufacturing.
November: A ceremony was held in Eldon, MO – to introduce next Quaker expansion - a 200,000 sq. Ft. building.
2018
Industry-Transforming Technology

Quaker began production of OptiCore®, the most innovative product ever developed by the company. The patented window put Quaker at the forefront of the luxury home market and the commercial window industry.
2019
Official Eldon Campus Opening

Phase 1 of Quaker's Eldon expansion project was completed — a 200,000 sq. ft. manufacturing and office building.
2020