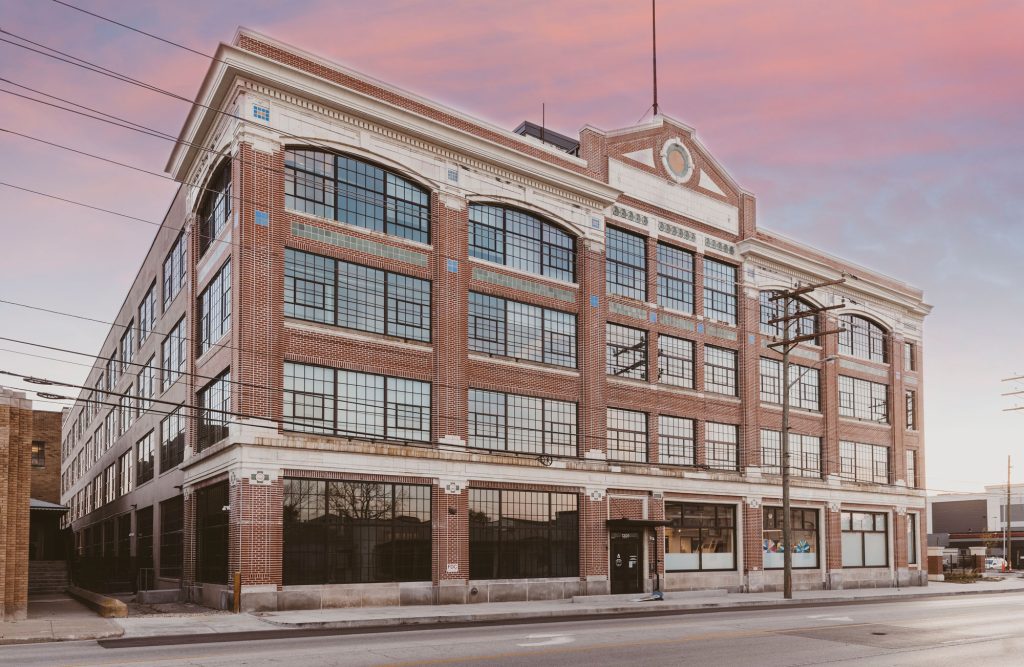 Freeburg, MO –– Quaker Windows and Doors is please to announce that it was awarded the top Façade Retrofit/Renovation Project in USGlass Magazine's Excellence in Architectural Glass Awards.
The winning project, The Assembly (The Old Ford Building) is based out of Indianapolis, IN and was completed January 2020 in partnership with Architect: Axis Architecture, Glazing Contractor: G2 Architectural, and Glazing Supplier: Cardinal Glass.  This building was on the endangered landmark list in 2016 because of non-use and disrepair. Not so today. With just over 20,000 square feet of glass and glazing, this historical landmark renovation brought with it the challenge to revitalize a building that had long been boarded up and on the verge of demolition. To start, the team went back to the original design from 1914 and matched the existing sight lines and openings. Working to resemble the steel windows that were installed originally, Quaker Windows used customized 2- by 6-inch vertical mullions to accommodate the large sizes. The largest single window being 82 inches wide by 102 inches tall, and the largest bay of windows being six windows and measuring 353-3/8 inches wide by 100-7/16 inches tall.
The significance of the glass to the overall aesthetic is transformative, like being brought back to 1914. The large windows allow in natural light while still incorporating new age thermal technology through thermally broken frames and insulating glass. This project specifically highlights the focus Quaker Windows & Doors places on staying historically true to the original building design, while improving occupant comfort and reducing energy costs.
 About Quaker Windows and Doors
Quaker Windows and Doors –– headquartered in Freeburg, Missouri is a family-owned business originally founded by the Knoll family over 70 years ago in 1949.
Quaker, a leading national manufacturer of Window & Door products for the Architectural, Commercial, Light Commercial and Luxury Residential and Residential markets, specializing in complex new construction, and retrofit systems.   Quaker has continually set an extremely high standard of quality for all their products. That dedication to providing the best products in the industry has resulted in continuous product and system design innovations including OptiCore® and SolidCore™ patented technologies, Green Enrichment Initiatives and a Mission of Continuous Innovation, Improvement, Integrity and Total Customer Satisfaction that we are proud to call "The Quaker Difference".