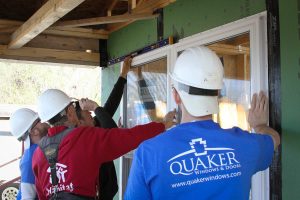 Saturday April 28, 2018, volunteers from Quaker Windows & Doors were on site with the River City Habitat for Humanity construction crew to help install Quaker windows into a future Habitat home. Since 2006, unbeknownst to us, Quaker Windows has donated windows for 60 River City Habitat homes to help ensure that families in our community have safe, decent, affordable housing.
"We are grateful for the support Quaker Windows has provided River City Habitat for Humanity as we celebrate this amazing milestone of our partnership," said Susan Cook-Williams, Executive Director of River City Habitat for Humanity. "It's the generosity of organizations such as Quaker that allow us to reach more individuals and families to ensure everyone has a decent place to live."
The volunteers on site  were extremely excited to be a part of such a huge milestone, working alongside the future homeowners of this house to help install the windows that would eventually be their daily view to the neighborhood. Homeowner Maria expressed her gratitude to the volunteers and her excitement over having such nice windows installed in her home, "I have photos of all the volunteers we have worked with on building our house. I'm excited to put up all the pictures once it is done so we can remember everyone who helped us long into the future."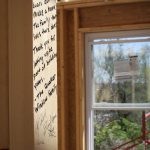 "We are honored to partner with Habitat for Humanity," noted Pam Knoll, a member of Quaker's ownership group. "Together we have helped build 60 homes here in central Missouri and have been given the opportunity to bring shelter to those in need. Quaker has been a family oriented company from the start, and being able to help people in our own community is extremely special to us. Thank you Habitat for allowing us to partner with you on this endeavor."
We want to thank  Alex Knoll, Brian Wagner, Aron Hill, and Heather Wagner for donating their time and efforts on behalf of Quaker Windows & Doors this past weekend. Future volunteer dates are already on the calendar to assist additional Habitat homes, as employees have expressed excitement at the opportunity to give back to their community with Quaker Windows & Doors.