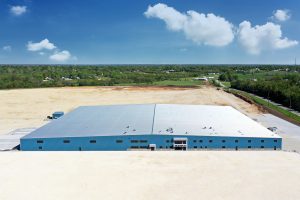 Eldon, MO – Quaker Windows and Doors has announced the opening of a new manufacturing plant at their recently established Eldon, Missouri campus.  The 200,000 square foot state-of-the-art facility began operations on May 18, 2020 and will be dedicated to expanding Quaker's commercial aluminum window and door production capacity.
"This plant opening is just the beginning of our strategic growth plan for the Eldon campus, explains Kevin Blansett, Quaker CEO. "We are extremely excited that this new facility truly is the next generational blending of cutting–edge technology, innovative products and state-of-the-art manufacturing automation."
This is the first building on Quaker's nearly 150-acre campus in Eldon, MO, which will produce a variety of architectural aluminum window products for the Architectural and Commercial construction markets, including the M600 and new C600 window system that features Quaker's patented OptiCore™ Technology.
"We will be employing more than 150 new team members over the next several months as all production lines become fully operational," says Eldon Plant General Manager, Jason Pratt.  "The Eldon facility is an incredible leap forward for our commercial window and door division."
"The Eldon facility exemplifies Quaker's ongoing commitment to meeting our commercial customer's ever evolving needs for thermally enhanced aluminum windows and doors," adds Kevin Blansett.
Quaker Corporate
Quaker Windows and Doors –– headquartered in Freeburg, Missouri is a family owned business originally founded by the Knoll family more than 70 years ago in 1949.
Current operations consist of corporate offices along with wood, vinyl, aluminum window and door manufacturing facilities for the Architectural, Commercial, Residential and Luxury Residential markets located on two campuses in Freeburg, MO and a Commercial Aluminum window and door facility in Eldon, MO.
The company is an active member of FGIA, WDMA and is an EnergyStar Partner.
Commercial Division
Quaker is a leading national manufacturer of Commercial Window and Door products for Architectural, Commercial and Light Commercial projects, specializing in complex architectural design, new construction and retrofit systems.  It supplies products for the Historic / Adaptive Reuse, Educational, Healthcare, Government, Office, Historical, Hospitality, Multi-family, Blast and Impact Resistant market segments. The Quaker window and door product portfolio includes a full suite of AW and CW rated window and door products including –– Project In / Project Out, Hung, Horizontal Sliding, Casement, Awning, Tilt Turn, Fixed, Horizontal Ribbon, Window Wall Systems, Terrace Doors and Sliding Glass Doors.
Quaker also works closely with Architects, State and National Park Services concerning Historic Renovation Design and Tax credit opportunities, to ensure that Quaker's extensive Historic product offering meets and exceeds standards and guidelines set for Historic projects throughout the country. 
Quaker has continually set an extremely high standard of Quality for all of their products. That dedication to providing the best products in the industry has resulted in continuous Product and System Design Innovations, Green Enrichment Initiatives and a Mission of Continuous Innovation, Improvement, Integrity and Total Customer Satisfaction that we call "The Quaker Difference".
For more information, email Quaker at marketing@QuakerWindows.com, visit our website at www.QuakerWindows.com, or our commercial window division at www.QuakerCommercialWindows.com. You can also contact Quaker at (800) 347-0438.