With summer on the way, it's time to take steps to make sure your home will be comfortable without wasting energy—or overheating your wallet—as the temperature rises.
1. Implement Passive Design Strategies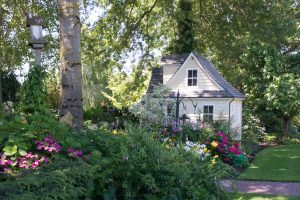 Air conditioning is not only costly, but takes it's toll on your home's energy usage. However, passive design strategies take advantage of a building's site, climate, and materials to minimize energy use and keep your home comfortable and healthy throughout the year. Landscaping such as planting large trees, or installing awnings/shutters are just a couple of ways you can lighten the load on your summer cooling bills. Also consider implementing daylighting techniques  such as southern facing windows, that allow warm sunlight to enter in the winter months, but very little direct sunlight in the summer, will help reduce your usage of electrical lighting throughout the day.
2. Conduct a Home Energy Audit
Before undertaking any energy efficiency upgrades to your home, you should always begin by conducting a home energy audit. A home energy audit, also known as a home energy assessment, is the first step to assess how much energy your home consumes and to evaluate what measures you can take to make your home more energy efficient. If hiring a professional to perform this audit, you may want to make a list of existing issues such as condensation, or drafty/hot rooms, as well as assemble your utility bills over the last year. This will help establish what issues the auditor may need to look at in your home. Whether you complete one yourself or hire a pro, these evaluations will help you prioritize your project so you can save the most on your energy bills.
3. Give your AC a Check-Up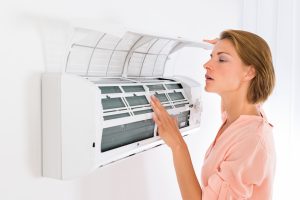 Replace your air conditioner's filter and test your air conditioner to make sure it is working properly. If you test your HVAC system today and find out it's not functioning, you need time to come up with a solution before the weather gets unbearable. Start by clearing any debris on or around the air vents, and any dirt from the main unit outside.  Then simply turn on the unit, and using a basic thermometer, place it on the vent nearest the AC unit for about 5 minutes. Then measure the temperature of the air coming out of the return vent. According to The Family Handyman, "The air coming out should be 14 to 20 degrees cooler than the air going in. An air conditioner that's not cooling to those levels could be low on refrigerant or have leaks. A unit cooling more than 20 degrees could have a severe blockage." By testing your system now, you'll breathe easier without having to deal with air-cooling malfunctions in the sweltering summer heat.
If you are planning on purchasing a new air conditioner this summer, do your research to make sure you are buying the most energy efficient model. Bigger does not always equal better.  In fact, according to EnergyStar® , "an over sized air conditioner is actually less effective — and wastes energy at the same time." As AC units cool a room, they also reduce the humidity and moisture in the air, therefore a unit that is too large may cool the space quickly, but it will leave the room feeling clammy or damp. On the other hand, an AC unit that is too small, will mean that it is running continuously trying to inefficiently keep up with the space.  To learn more about the best size unit for your cooling needs, check out this chart on the EnergyStar® website.
4. Add Insulation
Unless your home was constructed specifically for energy efficiency, you can probably reduce your energy bills by adding more insulation. Many older homes have less insulation than homes built in the last 10 years, but even adding insulation to a newer home can pay for itself within a few years.  Although it seems counter-intuitive to add insulation to your home in order to prepare for the summer, the better insulated your walls, ceilings and floors are, the less conditioned air they will leak. No need to try to cool the outdoors, too!
5. Upgrade Your Windows
Energy efficient windows are an important consideration for both new and existing homes. Heat gain and heat loss through windows are responsible for 25%–30% of residential heating and cooling energy use. Older homes are often the most likely to need a replacement window, however, even newer homes should have the windows and doors inspected each year. First, check the window for air flow, and leakage. If you have previously caulked or used weather stripping and you still have a leak,  or if you can feel air migrating through the glass itself, it's time for a replacement.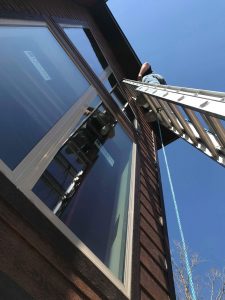 Energy efficiency is likely your top priority with replacement windows, and finding the right fit for you has become easier thanks to organizations like EnergyStar® and the National Fenestrations Rating Council (NFRC). To find out what doors/windows need to meet EnergyStar®  in your climate zone, visit HERE.  Additionally, the NFRC provides stickers on most windows that show they meet minimum standards and performance levels. These stickers allow you to easily compare the performance levels on competing windows by showcasing the U-factor/U-value, Solar Heat Gain Coefficient (SGHC), Visible Light Transmittance (VT), and Condensation Resistance (CR) of each window.
It's important that when you use the NFRC sticker to evaluate windows, that it is a true "apples-to-apples" comparison.  Don't compare vinyl windows against wood windows, or windows against doors.  Most importantly, don't compare a window with standard glass to a window that has specialty or Low-E glass.  Different glass types make a huge difference in the values shown on the sticker and can skew the comparison.  Always check the NFRC sticker.  It will tell you the glass make-up of the product you're assessing.
You can find the detailed performance levels, and much more about Quaker Windows & Doors new and replacement windows in our online residential or commercial catalogs.
If replacement windows are not in your budget, or your windows are too new to replace, consider upgrading your window treatments and coverings to utilize black out shades, or room darkening treatments that can reduce the amount of sun infiltrating your home each day.
6. Minimize Indoor Heat
Consider performing some daily "heat inducing" tasks during the later evening or at night. For example, run the dryer and dishwasher at night on hot days, or let your dishes/clothes air dry. Avoid heat-generating incandescent lighting and use a microwave, toaster oven or outdoor grill instead of the stove. Wash clothes in cold water, and make sure to clean the lint filter on your dryer after every use to minimize the additional heat a clogged filter can produce.
7. Dry-up Any Moisture Problems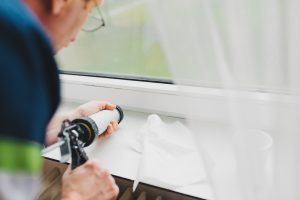 Summer weather isn't always hot and sticky, it can sometimes be stormy and even dangerous if you live in areas prone to extreme weather and flooding. Make sure your home is protected by  thoroughly checking both the inside and outside of your house, for cracks and leaks in the foundation, dark water spots on the ceiling, or cracked shingles on the roof that may be leaking water, drain pipes that force water directly into the ground next to the foundation, and ground sloping towards the house. You may need to use dirt to fill areas around your home to create a gentle slope away from your foundation.
Additionally, make sure windows & doors are properly sealed and caulked, and test your rain gutters around your home for areas that may leak, or sag, causing water to pool near your home's foundation. If you do find a leak in your home's foundation, roof, or walls, it is probably a good time to consult with a professional. Making sure repairs are done properly can save you lots of time and money down the line.
8. Freshen your airflow    
Ensure a cool, cool summer – not to mention a lower energy output – with a few simple air-flow updates. Turn your ceiling fan to counter-clockwise (the blades are tilted upward as they spin) to push air downward and create a stronger draft. The moving air from a ceiling fan increases the amount of evaporation from your skin and helps cool you off, meaning you could actually raise the temperature on your thermostat up to 4 degrees and still feel comfortable on even the hottest day.