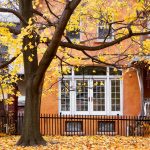 As summer's warm weather wanes into fall, it's time to once again prepare your home for the seasonal changes ahead. Along with breaking out the hoodies, boots, and pumpkin spice this Autumn, take a moment to review your home and take care of a few things that will limit your energy loss and troubles once the cool weather arrives.
Check for Air Leaks
Take time to check your home for potential cold air leaks now while the weather is good, and fix them. Checking for areas where cool air can enter the home is a great start. On the inside of your home, the most likely leaks are around windows and doors. Check for areas where light can enter around a door frame, or feel around doors and windows from the outside of your home for the cool AC air leaking out. You can also place a sheet of paper in the cracks of doors and close them, if the paper slides easily back and forth the weatherstripping may need to be replaced.
Additionally, walk around the exterior of your home looking for cracks, and holes near windows and doors, or where network or power wires enter your home. Sealing these cracks with an exterior caulk during the summer months allows them to dry and set well before the cool winter moisture sets in.
Clear the gutters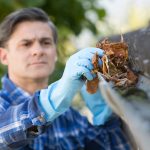 No one enjoys this job, but it is a task that is well worth the effort. Between the summer rains, and dirt, quite a bit of build up can happen in your gutters in just a few months. Take the time to check that your gutters are clear and clean so that the freeze/thaw weather in the season ahead doesn't end up costing you in exterior home repairs. While you are up there, be sure to check your roof for any storm damage, or missing shingles, vents, etc. that need to be replaced before winter as well.
Prepare for Heat
Now is the time to have a look at your fireplace and heating systems, or have them checked and inspected by a professional prior to using them again this winter. Having your fireplace chimney swept, and cleaned prior to starting your first fire of the year, is a great way to avoid a cozy little fire getting out of control.  Oh, and don't forget to stock up on firewood! A little bit of preparation can save you from a costly fire or heater failure once the cold weather arrives.
Paint
While painting may not seem like a "prep" project for fall, this is actually the best time of year for it. Heat and humidity are lower, yet it is still pleasant enough outdoors to keep the windows open while you work. This not only allows for a quicker drying time for the paint, but also helps keeps the fumes at bay while you are working.
Clean the windows 
Didn't I just do this in the Spring? Why yes, it's likely you did… however, with the days outside getting shorter, you will want to maximize the amount of natural light that is able to filter in and warm up your home this winter. Giving your windows a good scrub with a microfiber cloth on the inside, and spraying them down externally with a hose is a great place to start. Now is also a good time to assess your window screens for any repairs they may need from summer storm damage. Plus, as the air becomes less humid, you may want to enjoy those autumn breezes without the invasion of summer bugs, so making sure the screens are in good condition will allow you to keep your windows open all day long without an onslaught of tiny visitors.
Create a mudroom area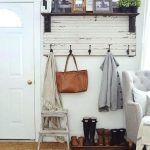 Both autumn and winter bring the return of mud and muck tracking into your home. Take the time to create a dedicated entrance area with an indoor-outdoor rug to protect your floor, and possibly a bench or seat to sit and remove shoes before tracking them further into the house. Adding a  few hooks or a coat rack in that area would create a great place to transition from being outdoors, while keeping the rest of your home relatively clean and dry.
Clean or Replace the Air Filter
While you are checking the furnace and fire place in your home, now is also a good time to replace the air filter that helps keep your air pure. Summer can breed bacteria, mold, and mildew into the air system, so taking out your old filter and washing it would be ideal. If you use disposable filters, look to replace yours with a hypo-allergenic or mildew resistant filter from your local home improvement store. This is just another step in breathing a bit easier this fall once all your windows are closed up to keep the cold out.
Retire your Outdoor Living Space
Your outdoor living area has worked hard all summer long, and while you may still enjoy a few more warm days ahead, crisp air is approaching and it is time to prepare this space for the oncoming freeze that will follow. Wiping down furniture, or spraying the dirt off with the hose is a great way to clean them quickly and let tables and chairs air dry in the sun. Once dry, either relocate items into storage, or cover them with a tarp to protect them through the winter.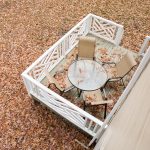 Protect your patio or deck by sweeping away the dust and debris that summer has delivered, and check for any cracks, holes, or chipping paint that may need to be repaired. As summer humidity fades away, this is the perfect time to fill in any gaps or touch up paint chips as the weather is still warm enough to dry it quickly.
Lastly, take a bit of time to clear away any overgrown vegetation near your home, particularly vines that may be intruding on your exterior. Trimming away excess leaves and vines will reduce the amount of debris that is present in your outdoor space once the wet winter weather arrives. Take a moment to freshen up and clean your gardening tools as well, this will make transitioning back in to Spring gardening a much easier task.
Home Safety Check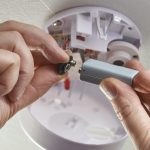 Now is also a great time to do a quick swap of the batteries in your smoke and carbon monoxide detectors. While an easy way to remember to do this is around daylight savings time, it is good to replace the batteries at least every six months to make sure your home remains safe and protected.
Now that you are done with your fall checklist, kick back, cuddle under a blanket while sipping something warm, and enjoy your cozy home this Autumn.