Eldon, MO –– This month marks the 1-year anniversary of Quaker Windows and Doors opening of their Eldon (MO) Manufacturing facility and Offices. The manufacturing plant and office build-out in Eldon were Phases 1 and 2 of Quaker's multi-phase Eldon expansion plan for the 130-acre campus.
Yesterday, Thursday, May 6th, Missouri Governor Mike Parson visited Quaker's Eldon campus. Governor Parson took a tour of the new state-of-the-art 200,000 square foot commercial window manufacturing facility and offices. Following the tour, Gov. Parson, along with the Lt. Gov. Mike Kehoe, and members of Quaker's ownership team, took part in a ribbon-cutting ceremony to celebrate the 1-year Anniversary of the plant opening and the 160 jobs that the new Eldon facility has created in just one incredibly challenging year.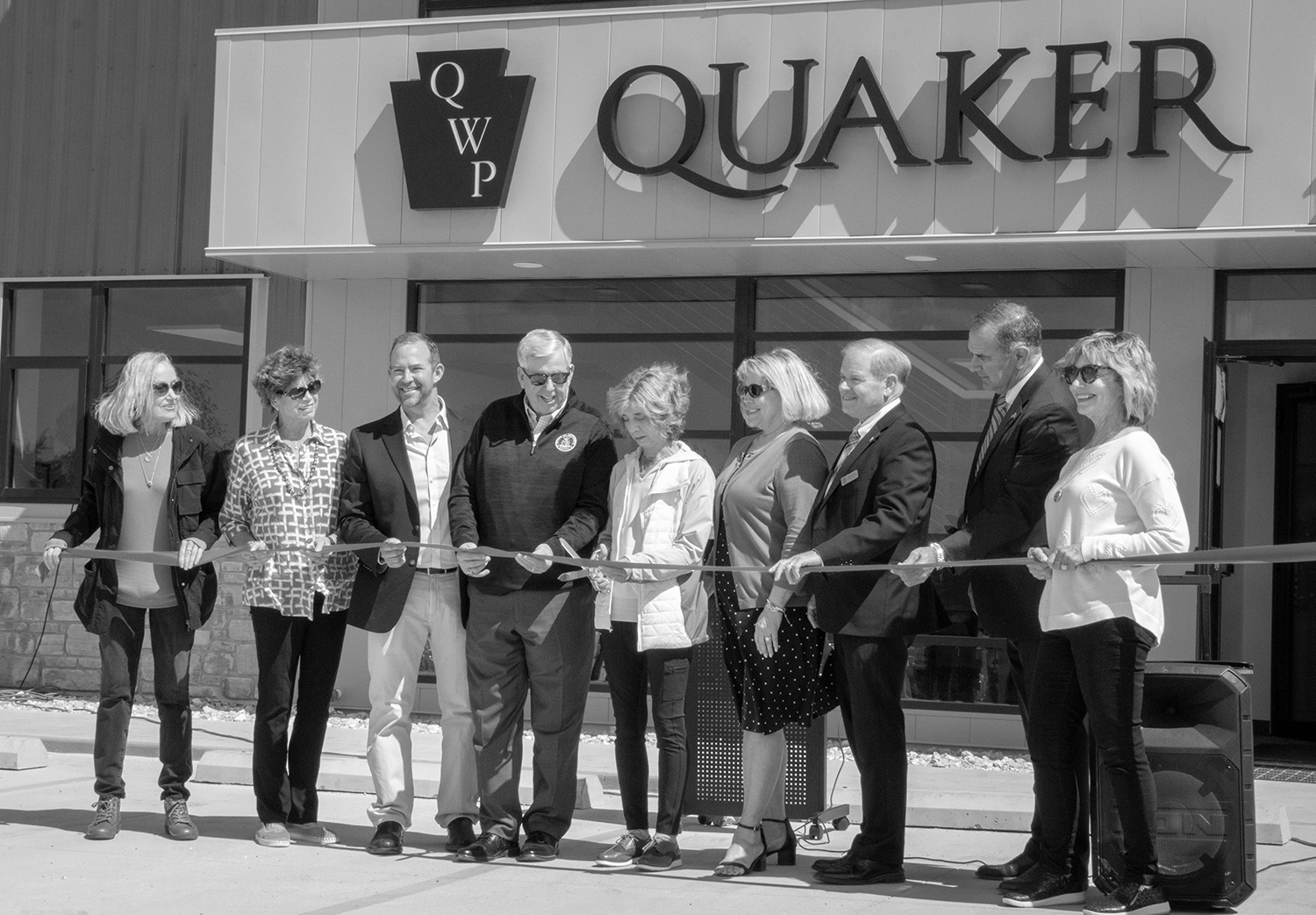 Prior to the ribbon-cutting, Governor Parsons joined Quaker Owners, CEO Kevin Blansett and invited guests to officially announce the start of construction on Eldon Phase III.  
This new 250,000 sq. ft. commercial window and door facility will be built adjacent to the existing plant and will manufacture a variety of commercial window and door products for the Architectural and Commercial construction markets. It is estimated that an additional 150+ jobs will be created in 2022 once the new building is in full operation. The expected opening date of the facility is late spring of 2022.
"This next phase and expansion in Eldon is exciting for Quaker. Not only does it continue our strategic growth plan but will also be the home of our new "Window Wall" division, as well as some exciting new technology that exemplifies the "Quaker Difference" and our ongoing commitment to meet the ever-evolving needs of the commercial construction industry", said Kevin Blansett, Quaker CEO.
In addition, Quaker is expanding both first and second shift career opportunities at both the Eldon and Freeburg/Maries campuses.  Visit www.QuakerCareers.com for more information.  Currently, Quaker has 150 employees in Eldon, with over 1,000 employees at the Freeburg/Maries Campus and was just again voted "2020 Missouri's Best Large Employer" by Missouri Magazine.
About Quaker
Quaker Windows and Doors — headquartered in Freeburg, Missouri — is a family-owned business founded in 1949.
Quaker is a leading national manufacturer of Commercial, Residential and Luxury Window & Door products. Quaker supplies products for the following market segments:  Historical/Adaptive Reuse, Educational, Healthcare, Government, Office Space, Remodel, Hospitality, Blast Mitigation, Impact Resistance, Multi-family and Single Family. The Quaker product portfolio includes a full suite of window and door products including Hung Windows, Horizontal Sliding Windows, Casement Windows, Awning Windows, Picture Windows, Terrace Doors, Sliding Doors, and Horizontal Ribbon/Window Wall Systems. 
Quaker continues to set an extremely high standard as it pertains to the quality of their windows and doors. That dedication to provide best-in-class products has been the result of continuous product design innovations, Green Enrichment initiatives and a mission of continuous improvement, integrity, and total customer satisfaction, known as "The Quaker Difference".
For more information, email Quaker at marketing@QuakerWindows.com, visit our website at www.QuakerWindows.com, or call 800-347-0438.